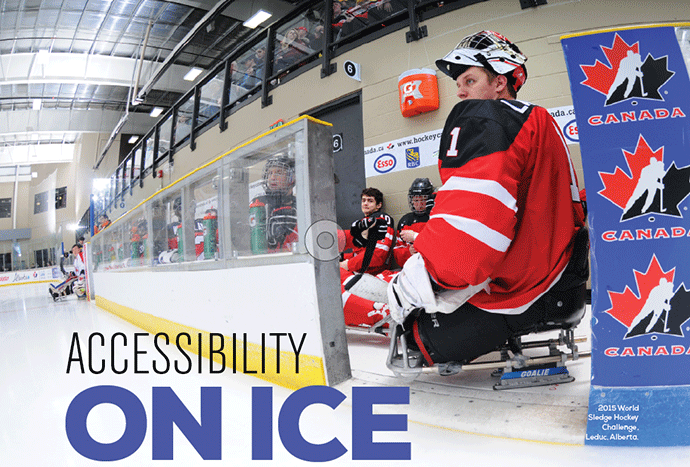 Arenas that adapt for sledge hockey are on accessibility's cutting edge
Quick: who are Greg Westlake and Brad Bowden?
They're Canadian Paralympic gold medallists in sledge hockey, a growing sport since this country's first team was formed in 1982. Conceived in Sweden in the '60s, sledge hockey accommodates players with a disability below the waist, who play in a sledge outfitted with blades on the bottom, and using two short sticks to move themselves and the puck.
"It takes a lot of courage to play the game; there are picks on the end of their sticks!" says Ben Shutron, sledge hockey coordinator for Hockey Canada. "We won our first Paralympic gold medal in 2006 in Torino; that's where everything exploded, and it's been growing ever since."
Although sledge hockey can be played on any hockey rink, the Canadian Recreation Facilities Council's Sledge Hockey Accessibility: Design Guidelines for Arenas outlines numerous modifications for fully accessible facilities. For example, team benches and penalty boxes need plexiglass dasherboards so players can see from their sledges. All player areas should be surfaced with plastic or ice to allow players to move around freely without help.
Players need 36 inches of clearance through doors, gates, hallways and space between fixed benches and other furnishings. Washrooms, showers, locker areas and benches must be adapted, too. Since the sport attracts audience members with mobility limitations, access from streets to seats must be seamless as well.
Shutron expects new construction will account for most growth in the pool of facilities; nevertheless, many older arenas have adapted for sledge hockey during major renovations, including the University of British Columbia's Father David Bauer Arena, which expanded—at a cost of $47.8 million—and was renamed the Doug Mitchell Thunderbird Arena prior to the Vancouver 2010 Winter Paralympic Games.
A 1997 expansion to the Iroquois Park Sports Centre in Whitby, Ont., included four rinks that could accommodate sledge hockey; and in 2011, an additional $8-million renovation improved accessibility throughout the facility.
Shutron says more facilities are needed in Canada. "We'd like to see it be a part of the municipal building codes going forward," he says. He believes the sport is still growing, because "you see one game, and you get hooked."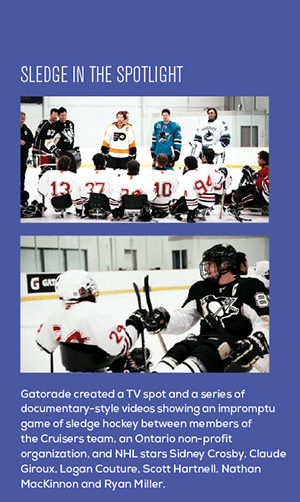 Leduc hosts the 2015 World Sledge Hockey Challenge
About five years ago, a multimillion-dollar renovation to the Leduc Recreation Centre in Leduc, Alta., included twin sledge compatible, NHL-sized arenas that Hockey Canada's Ben Shutron calls "a great blueprint for other centres."
During the design stage, plans and access points were reviewed with the Canadian Paraplegic Association, and current industry construction standards for sledge hockey arenas were followed. The accessible centre also features: push-button and sliding glass doors; wheelchair-friendly fitness equipment; field houses with rubberized flooring; accommodation for wheelchair curling; and ramps throughout the facility.
The venue has won many awards for facility design, and in February 2015 welcomed players from Canada, Russia, USA and South Korea for the World Sledge Hockey Challenge.