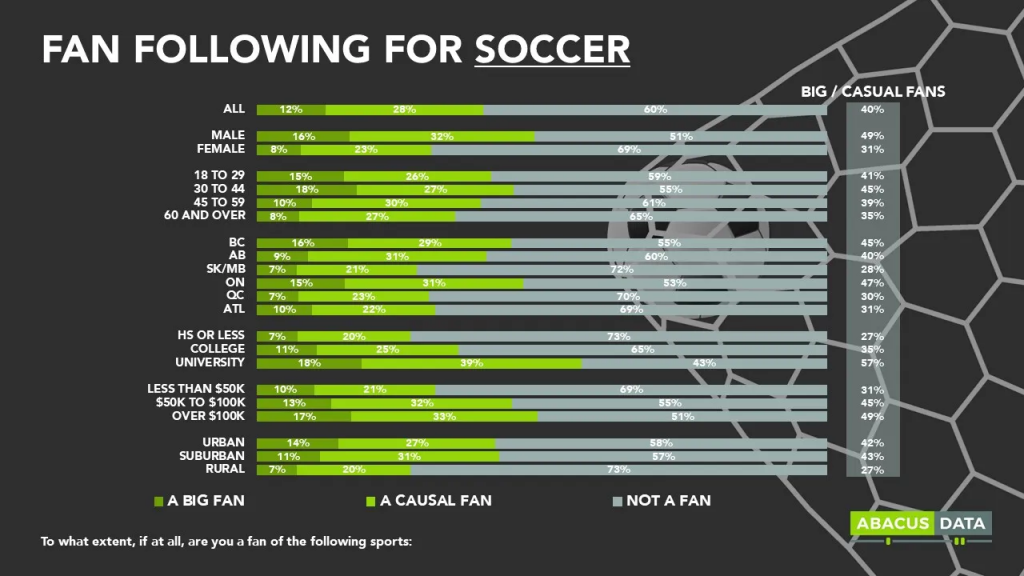 Abacus Data asked Canadians how they feel about Canada's men's soccer team qualifying for the 2022 World Cup, taking place in Qatar later this year.
Here are some of the key findings:
> One in three Canadians say they will follow the World Cup more closely this year because Team Canada qualified and one in five non-fans of soccer say they will follow the tournament more closely this year.
> 52% said they would only be cheering for Team Canada; 9% said they would be cheering for Team Canada and another team; and 5% said they would be cheering for a team other than Team Canada.
> Four in 10 Canadians consider themselves fans of soccer and two in five say they are either big or casual fans of the game. About as many people are fans of soccer as they are of CFL football, NBA basketball and tennis.
> Canadian soccer fans tend to be male, younger and concentrated in Ontario, Alberta and British Columbia. They are more likely to have a university education and live in urban or suburban communities across the country.
Visit Abacus Data for more survey results.
Watch the moment that Canada qualified for the 2022 FIFA World Cup.