DRIVING DONATIONS

Honda's Junior Red Riders program teaches children aged six to 12 how to safely ride. A private lesson is also provided to all of the Make-A-Wish children. (Photos: Honda Indy Toronto; Angela Kryhul)
---
Honda's partnership with Make-A-Wish is a win for families.
By Sarah B. Hood
In order for a charitable partnership to thrive, the charity and the sponsoring organization must align perfectly. The nine-year alliance between Honda Canada Foundation and Make-A-Wish Canada is a textbook model.
Make-A-Wish Canada grants special wishes for children aged three to 17 with a critical illness. Since its founding 35 years ago, it has granted close to 7,500 wishes. A survey of adult wish children found that 71 per cent believe their wish experience contributed to saving their lives.
Honda Indy Toronto takes place annually over three days in mid- July. The event takes over most of the city's Exhibition Place grounds, with a huge section devoted to demonstrations, activities, sponsor booths and activations. Rather than pay an admission on the Friday of race weekend, fans are encouraged to make a donation to Make-A-Wish.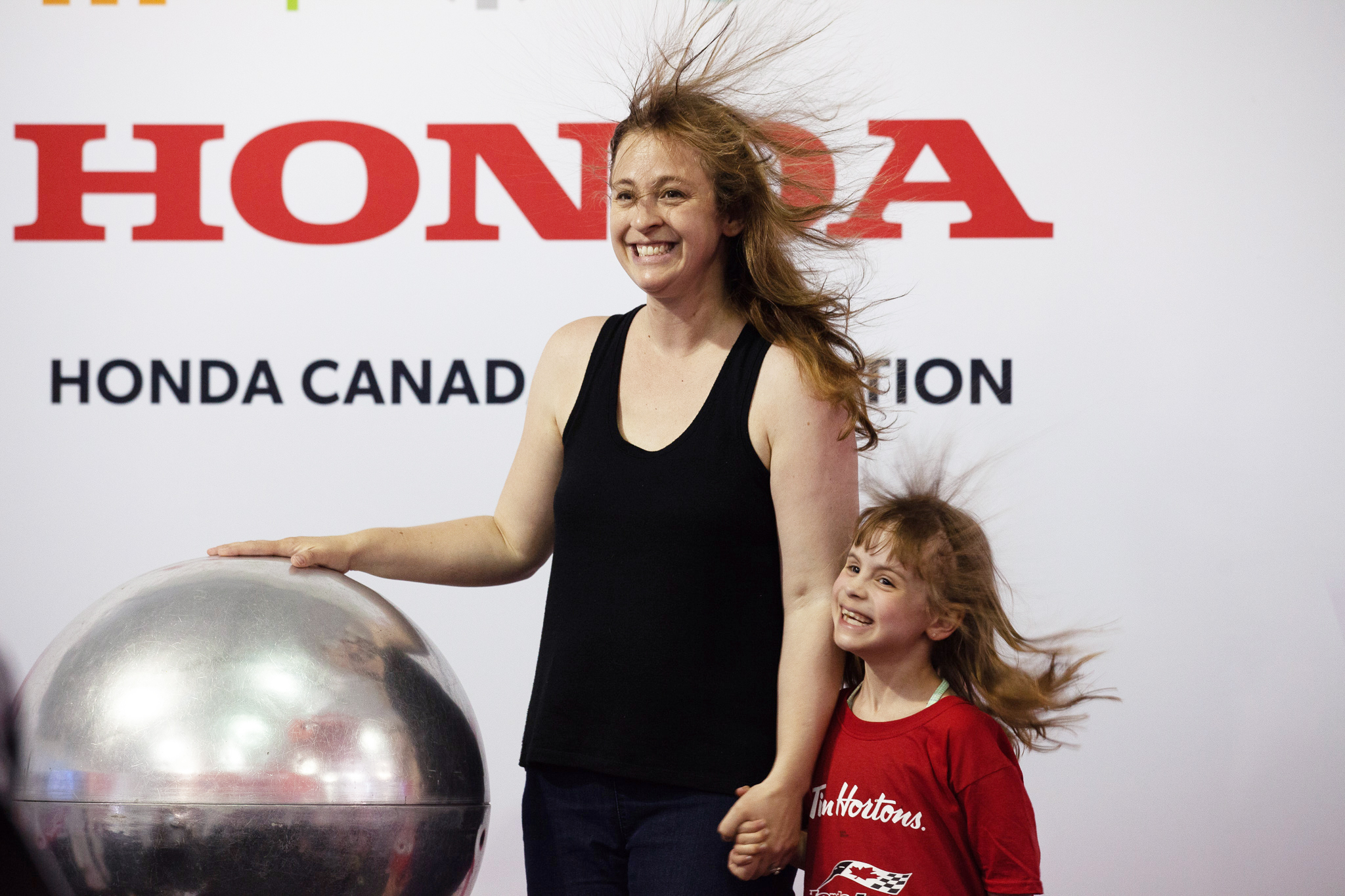 Fans donated $2 each to experience the Ontario Science Centre's Van de Graaff Generator. (Photos: Honda Indy Toronto; Angela Kryhul)
---
"Our Ontario Honda Dealers sponsor that activity," says Dave Jamieson, chairman of Honda Canada Foundation. "Our mission is to provide support to people and organizations that support our four pillars: family, environment, education and engineering. If you think about our pillars, obviously children and family go hand-in-hand. For us this is almost a perfect fit."
"This year we raised $90,000; the Honda Canada Foundation matches dollar for dollar what's raised at [Honda Indy Toronto]," says Chris Pon, vice-president, national corporate alliances, Make-A-Wish Canada.
The sponsorship extends beyond Fan Friday. "We are with Honda throughout the whole weekend. Last year, we had 100-plus volunteers supporting our efforts at the Indy," says Pon. Besides Fan Friday door donations, the Indy's fan activation areas offered numerous opportunities for additional contributions—as little as $2 at a time—for all sorts of family-focused interactions.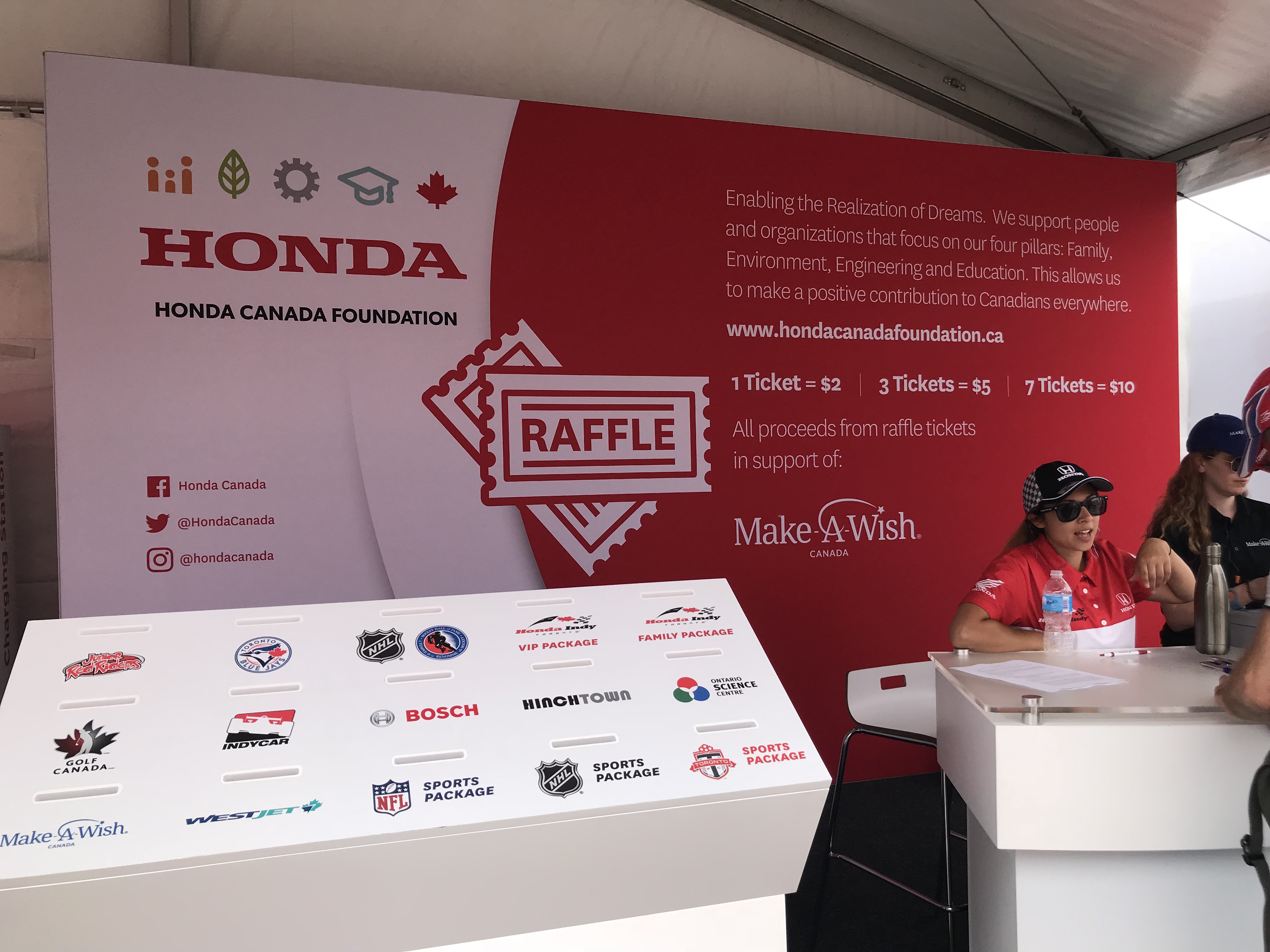 Raffle prizes included everything from Blue Jays tickets to autographed NFL jerseys, with all proceeds going to Make-A-Wish. (Photos: Honda Indy Toronto; Angela Kryhul)

---
Most activations (which change little over the years) flow naturally out of readily available partnership resources. For instance, a chance to take a photo with a show car is a known fan favourite; a raffle (a newer addition) features such prizes as 2019 Indy tickets, WestJet flight vouchers and souvenirs signed by Canadian IndyCar driver James Hinchcliffe (who is sponsored by Honda).
Meanwhile, this opportunity to engage further with families benefits Honda. "If you think again back to our mission," says Jamieson, "It's really almost a match made in heaven."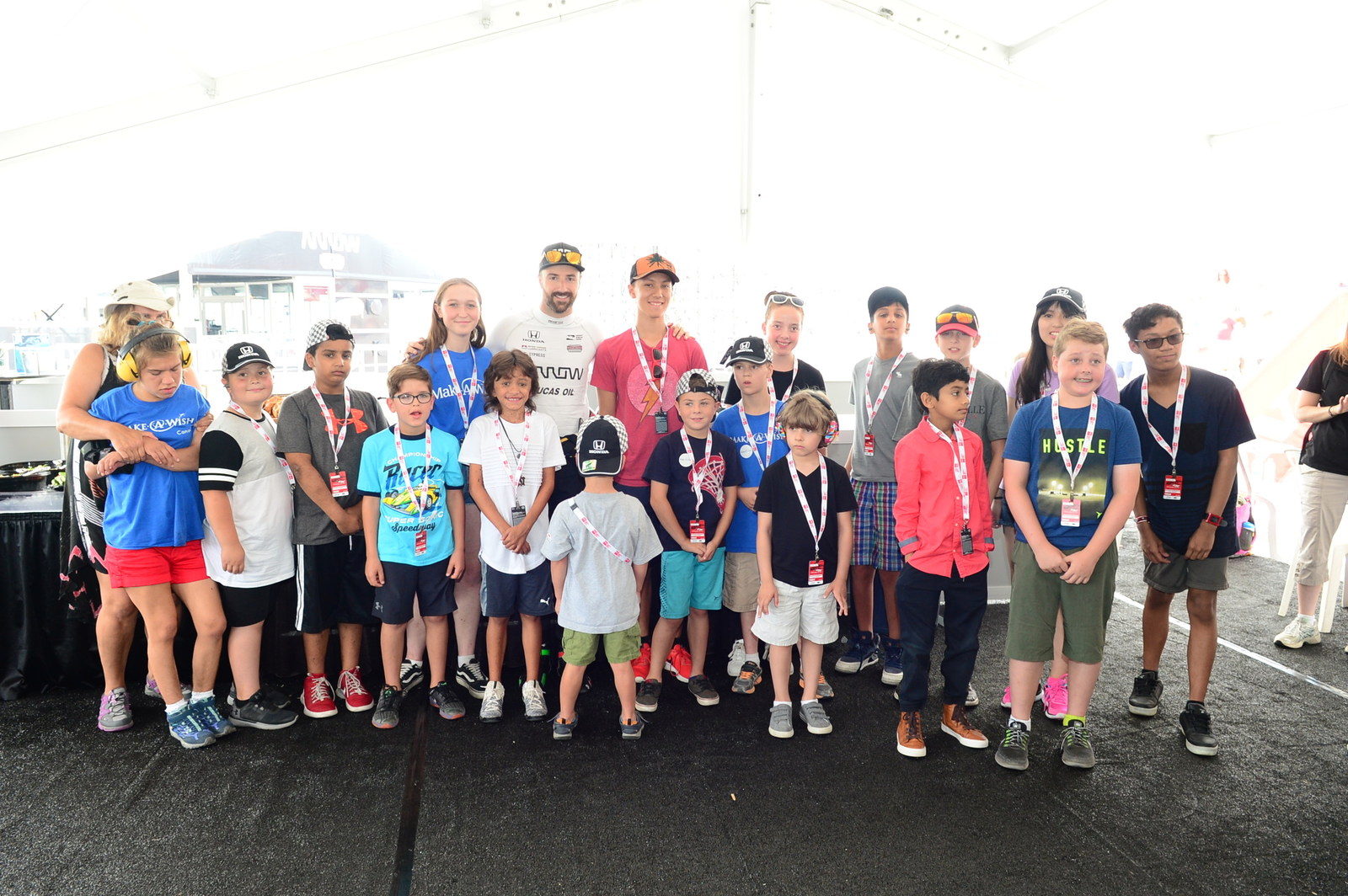 Canadian race car driver James Hinchcliffe and Make-A-Wish Canada children during Fan Friday at the 2018 Honda Indy Toronto. (Photos: Honda Indy Toronto; Angela Kryhul)
---
Fulfilling Dreams, One Toonie At A Time
The 2018 Honda Indy Toronto presented families with an enticing variety of ways to contribute to Make-A-Wish Canada, most of which were available for a suggested minimum donation of just $2:
Honda racing simulators
Face painting, cotton candy, snow cones and popcorn
Photo opps with James Hinchcliffe's show car
The Ontario Science Centre's Van de Graaff Generator
Honda Junior Red Riders motorcycle training program
Toronto Blue Jays baseball batting cage
Golf Canada's practice swing zone
SaveSave
SaveSave