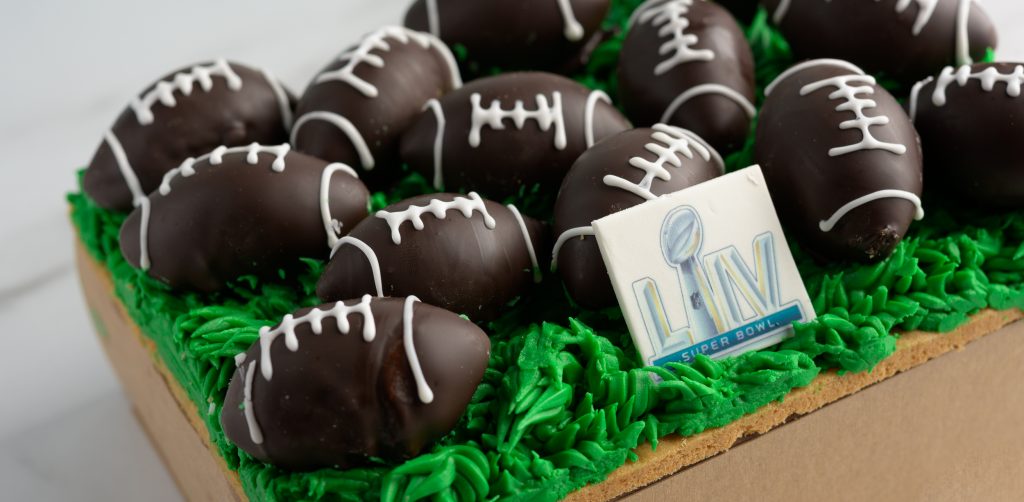 By Angela Kryhul
Athletes out on the field at Miami's Hard Rock Stadium weren't the only ones working up an appetite during Super Bowl LIV. Centerplate, the stadium caterer, flew in 3,000 culinary staff to help feed 70,000 hungry fans, performers, athletes, support staff and others during the big game.
BC Place Stadium Executive Chef William Tse was among 25 travelling executive chefs brought in to help support culinary teams during the February 2, 2020 event. With his thorough understanding of the stadium catering business, Chef Tse took on a mentorship role, acting as a senior set of eyes and managing one of the premium suite kitchens located on the second floor of the stadium.
---
Describe your responsibilities before, during and after the event.
It's a lot of organizing, locating your products, locating equipment and just getting situated and familiar with the stadium. When you're at a different property, you spend a fair amount of time just getting used to the presentation expectations.
I managed one of the premium suite kitchens located on the second floor. Our role was to make sure that all the suites in this section received the best quality food in a timely manner. We cooked the food as needed and expedited accordingly, in order to… provide guests with the most memorable, positive experience.
We returned the day after the Super Bowl to help the team put the stadium back to its original form. We went through each kitchen with a fine-tooth comb, ensuring food that could be saved was donated. We ended up donating over 30,000 pounds through Food Rescue US–Miami, directly benefiting shelters and missions in the local community.
Who did you prepare the dishes for?
The kitchen I helped run was just off the 50-yard line. We can't reveal everyone we served… there were many, many celebrities at the game. But I do know that Jay-Z, Beyoncé and DJ Khaled loved our gourmet desserts.
Type of meals / dishes prepared?
Compressed tuna tiradito, citrus lobster tails, jumbo shrimp cocktail, Islamorada beer can chicken lollipops, chilled steakhouse smoked tenderloin, Caribbean-style mojo-porchetta, braised beef short ribs with classic Bordelaise Sauce, grilled smoked chicken wings finished with a guava barbecue sauce… to name a few. Senior Executive Chef Orlando Morales and Executive Chef Dayanny De La Cruz created an exquisite menu that really captured the diverse flavours that Miami has to offer.
It was an honour to work alongside some of Centerplate's top chefs. It was also powerful seeing the global scale of Centerplate and our parent company, Sodexo, on full display as we imported macarons from Lenôtre bakery in France, made the seafood paella dish created by the head chef at the Wanda Metropolitano Stadium in Madrid, and served gourmet bonbons made by our talented pastry team from the Colorado Convention Center.
Was this your first Super Bowl experience?
Yes, but I know it will not be my last. It was awesome seeing something on this scale. All the moving parts… from staffing to food, equipment logistics, ordering and storage—it was amazing to see the infrastructure it takes to pull off such an event. I love seeing how it all comes together.
How did this experience contribute to your overall skill and experience as a chef?
Being able to take some stress off the team at Hard Rock Stadium and working alongside chefs that have been involved with numerous Super Bowls was truly an honour. It was very humbling at the same time; we have big events in Vancouver, but Super Bowl is in a category of its own. Just being recognized as one of the leading culinary talents in the company and being selected to participate in Super Bowl was truly a privilege. 
Having experienced a Super Bowl, something of this magnitude, you always walk away with a little more knowledge seeing how others operate, how they organize and deal with the scope of an event of this size.
I have run big events myself; I understand the logistics and what it takes to conceptualize, plan and execute such a large event. As a chef, I wear many hats and my skill set played in my favour while I was in Miami. It was nice to see how other stadiums run and how they plan and execute. It only makes me a better chef.
---
---
Photos: Matthew Noel, Centerplate