Why not celebrate your sport event by having the Royal Canadian Mint strike a commemorative coin? Collector coins can be designed to capture a significant milestone or the intensity of game play. Here are the stories behind three sport collections.
By Astrid Van Den Broek
---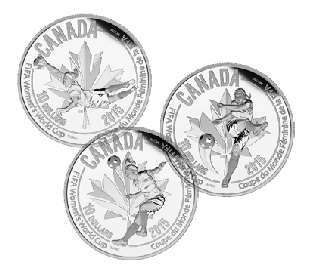 FIFA Women's World Cup Canada 2015
Artists Joel Kimmel, Greg Banning, Tony Bianco and Glen Green designed the collection of silver coins which includes a $20 coin (200,000 mintage); four $10 coloured coins (15,000 mintage) and two additional $10 coins featuring the themes of "Canada Welcomes the World" and "Go Canada Go!". There are also three $75 pure gold coins.
Notable: The FIFA Women's World Cup Canada 2015 coins commemorate games hosted in Vancouver, Edmonton, Winnipeg, Ottawa, Montreal and Moncton.
---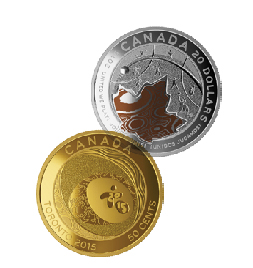 Toronto 2015 Pan Am / Parapan Am Games
Artists Christi Belcourt and Susanna Blunt designed the 50-cent gold-plated copper "Celebrating Excellence" coin (15,000 mintage). A one-ounce silver "United We Play!" coin (8,500 mintage) features the Japanese metalworking technique of mokume gane to create the novel shape of a maple leaf on its reverse side.
Notable: The mokume gane technique fuses together copper and silver and has never before been used on a coin.
---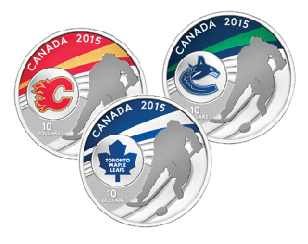 National Hockey League Canadian Franchises 2015 Edition
The series features coins for Canada's seven NHL franchises: Vancouver Canucks, Edmonton Oilers, Calgary Flames, Winnipeg Jets, Toronto Maple Leafs, Ottawa Senators and the Montreal Canadiens. The half-ounce coins have a face value of $10, are made of fine silver, and have mintages ranging from 5,000 to 6,000.
Notable: The 2015 edition coins for the first time feature an advanced "Sheer Effect" colourization technique that makes the coins glitter under light.
---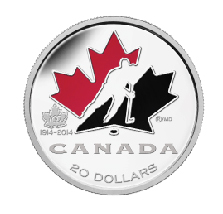 Hockey Canada 100th Anniversary
The one-ounce fine silver coin commemorates the founding of the Canadian Amateur Hockey Association, which was the precursor to Hockey Canada.
Notable: The coin features red and black enamel and bears the Hockey Canada logo of a silhouetted hockey player.
---
Is Your Event Coin-worthy?
Work ahead. That's the advice the Royal Canadian Mint gives to organizations that want to mark their sports event, team or milestone with a special coin. "A coin can take anywhere from 18 months to two years to get to final product," says Alex Reeves, the mint's senior manager, communications. There's no guarantee the mint will agree to create a collector coin, although it does welcome suggestions from sports organizations. Reeves notes that any suggestions go through an approvals process, and it's important that all suggested coin products "have a commercial viability," since they are marketed to the public, he adds. Once the mint agrees to create a collector coin, it uses its own stable of artists, although sports organizations have some input during the design process.
Photos: Royal Canadian Mint