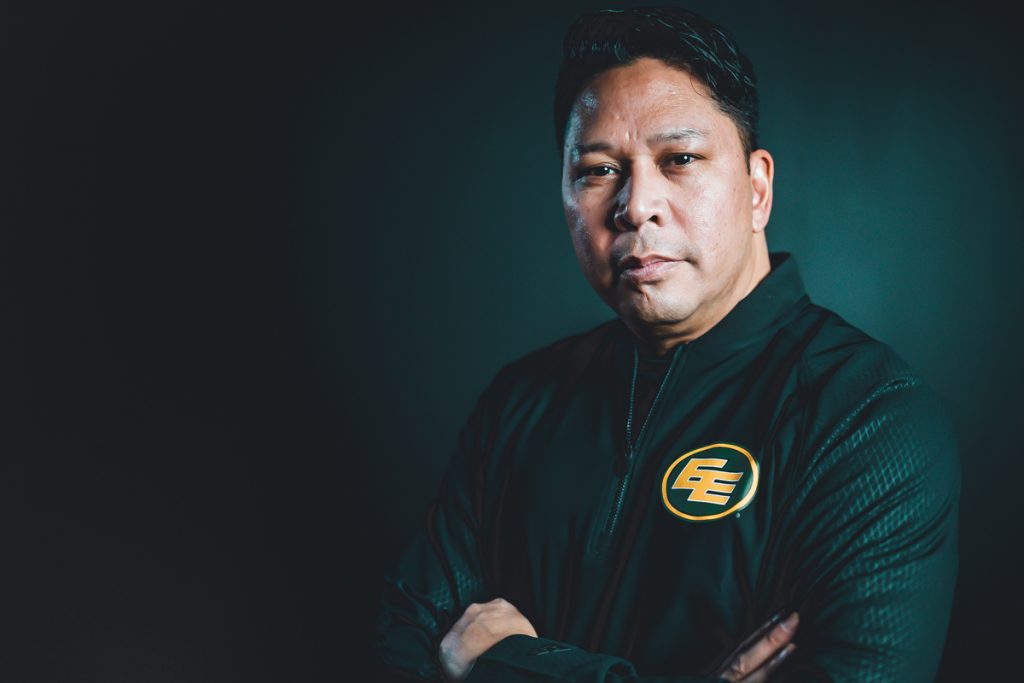 Edmonton-born sports executive Victor Cui faces one of his biggest challenges as the new president and CEO of the Edmonton Elks: To re-energize a storied sports franchise that has turned off even some of its most loyal fans. TEDDY KATZ caught up with Cui to learn about his plans.
Victor, let me start by asking what keeps you up at night?
Nothing really Teddy. I'm invigorated by the challenge. This is not a ship with one big hole that has to be fixed. This is a ship with 1,000 different holes. Each hole requires a custom new solution to repair it.

People care about sports. There's an emotional bond with a team. When that bond is frayed [it's a huge problem], which is where it is today with the Edmonton Elks and the community.

One of my first goals is to reconnect with our fan base and understand what they care about and what they don't. There are two things we're focusing on right now. Anything we do has to be repeatable—there's no point taking on an idea if it's only a one-off. Second… is it scalable? Is it something we can do not just for a group of 50, but for [all of] Edmonton? If we can hit those two criteria for new initiatives, that will grow our business.

You've been a fan of this team since your youth and you won a scholarship from the team after high school. How did that impact you?
When I was a kid, the CFL, and this team, was this magical thing behind the black curtain. I didn't know how it operated. There was nobody that looked like me—a first-generation Canadian with immigrant parents—that was in the business of sports. Today, I look at this opportunity and think how lucky am I to be leading one of the nine teams. The only president and CEO that's a visible minority. I recognize the privilege that I have to be building a ladder behind me for the next generation to hopefully say, 'there is a role in Canadian sports for me.'

You built ONE Championship, a billion-dollar business, from scratch. What did you learn?
When we started ONE Championship, the sport of MMA [Mixed Martial Arts] was illegal in almost every Asian country. I was not only starting a whole new business, I had to lobby dictators, military juntas, communist governments, and convince them that this was a sport they should open their doors to. It was a difficult challenge because martial arts in Asia have a different place in society that they fiercely protect as part of their culture. I had to show them that the DNA of ONE Championship was built around the traditional values of martial arts.

When I created our first social media accounts, we had zero. The first follower was my mother. Today, our content is the number one most viewed content in the world on Facebook. I've been so lucky over this last decade to build a strong digital expertise that I can now apply to the Edmonton Elks.

Few sports leaders are as active as you on social media. Why is this activity important?
I'm 50 years old. I'm not a digital native by any means. I had to work hard like any other skill set to teach myself how to maximize and appreciate this tool. [As co-founder of ONE Championship], I used to tweet in four different languages. It's a great tool for all leaders that are in a business that is direct to consumers, which is what sports is.

[Now with Edmonton,] I get 350 messages a day across my social media platforms from fans and I feel an overwhelming sense of obligation to reply to each of them. Every single fan matters because every single fan decides to pull out their wallet to make a purchase. You have this amazing tool that allows you to have access to them.

Elks chair, Ian Murray, recently said the team has to do a better job reaching out to new Canadians as well as traditional fans. What do you make of that?
The board recognized, coming out of COVID, that innovation was required. They were looking for someone with sports expertise who could bring in the changes required over the next decade to lay the right foundation [and diversify the fan base]. This is not a problem unique to the Edmonton Elks. [Like most sports,] we need to reach out to youth. At a very superficial level, you could say we need to do more TikToks. But it requires more than that. We are in the business of sharing stories. We have to find those stories. That requires digging and hard work.

I'll give you an example of what we recently did for Family Day with the Elks. I reached out to [longtime season ticket holders] and said, "can you share a picture of your family with me?" They sent pictures in by the dozens. We shared our fans' pictures, saying, "You don't really own a season seat, you're just keeping it for the next generation." We had a season ticket seat sale for $99 and we had the biggest single-day sales in the history of this organization.

How important is it to reconnect with fans who may not return to the stadium?
The mindset of traditional sports is that television cannibalizes our ticket sales. That's a mindset that's old and dated. There are different fan personas. You have to give a different value proposition for each of them. In this new world, how can you say that the sofa fan is less important than the stadium fan… if they love the game as much and they go online and buy $500 of merchandise? Meanwhile the person that comes to the stadium [may only buy] a $150 ticket and zero merchandise. The person who sits on the sofa is just as valuable as the person who comes to your stadium. They are all part of the same ecosystem.

What metrics do you use to define success?
My goal is unequivocally to make the Edmonton Elks the number one sports property in Canada [so that] when I present our business metrics to a sponsor, it is undeniable that they should be a part of this team. That's my goal… to beat everybody in two years. Can we do it? I don't know. But that's my bull's-eye.
---
Get to Know Victor Cui
• Co-founder, ONE Championship
• ESPN STAR Sports Singapore, director, event management group
• Golf Canada, director of corporate communications
• University of Alberta; OMNES Education; Capilano University
• Former Royal Canadian Navy reservist
• Black belt, taekwondo
---
Originally published in the ADRENALIN Spring 2022 issue.