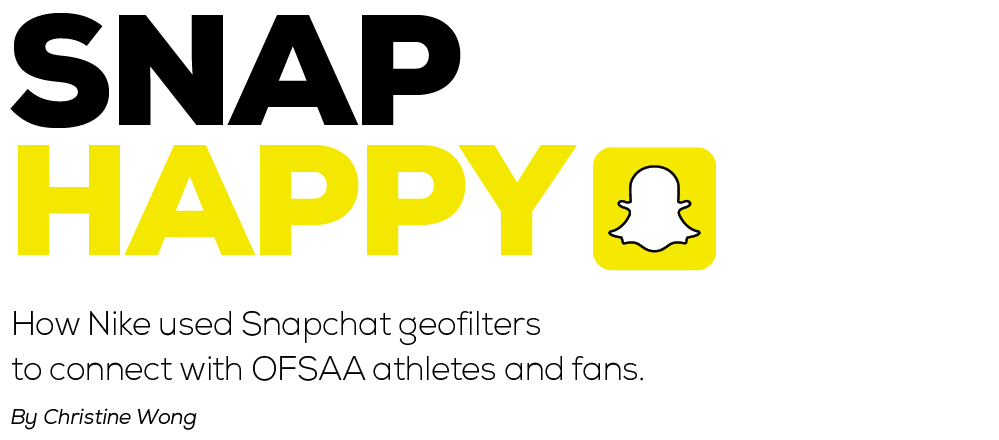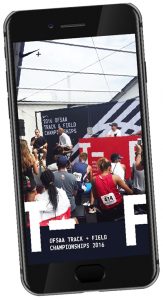 A Snapchat geofilter campaign that celebrated young Ontario athletes also scored big marketing points for Nike.
Nike created a special geofilter used on the popular social media app during two events held last year by the Ontario Federation of School Athletic Associations: the OFSAA Track & Field Championship in Windsor from June 2 to 4, and the OFSAA Cross Country Championship in Port Hope on November 5.
A geofilter is a graphic (usually a logo or symbol) overlaid onto photos and videos shared via Snapchat. Using Snapchat's geofencing feature, the filters appear only within a certain geographic area. For example, after Snapchat users downloaded the free Nike filter, it appeared on photos they shared from within the OFSAA championships event site.
Although anyone can create Snapchat geofilters, they've become popular marketing tools for many brands. Gatorade's geofilter for the 2016 Super Bowl, which allowed Snapchat users to virtually shower themselves with a cooler full of Gatorade, generated more than 160 million impressions, even topping the TV audience of 111 million for the actual game.
While Snapchat now offers users the option of saving their content, it's best known for a feature that automatically deletes content within a set time period. Nike's customized geofilter was available only during the OFSAA events and expired once the OFSAA events ended.
What drove Nike to build a campaign around a filter that's so fleeting? Demographics, says Amanda Stern, an account supervisor at T1, the Toronto agency that created Nike's OFSAA geofilter. 
"OFSAA athletes are all high-school students and roughly a quarter of Snapchat users have not graduated from high school yet," she says. "It's where Nike's target audience is, on the [social media] platform they're all using."
While there are no comparable numbers for Canadian teens, a 2016 Insights West study found nine per cent of all Canadians visit Snapchat at least twice a week.
During the three-day OFSAA event in Windsor, Nike's geofilter was used 2,700 times and viewed on shared Snapchat photos more than 150,000 times. During the one-day OFSAA championship in Port Hope, it was used 1,300 times and viewed over 70,000 times.
For Nike, the cost of all that exposure was only about $150 per day, says Stern. Plus, companies and individuals can create geofilters for events without getting permission from event organizers, as long as they don't violate the event's intellectual property. (While Nike didn't obtain OFSAA permission for its geofilter, Stern says the filter didn't use any OFSAA trademarks and OFSAA "was aware it was out there.")
Stern says the ease, impact and affordability of geofilters make them a must-have for most event marketers targeting an audience under age 30.
"Make the geofilter something the user will want to share, as relevant and as current as it can be," she suggests. "It's all about showing your friends what you're up to. It'll make your friends jealous that you're there."