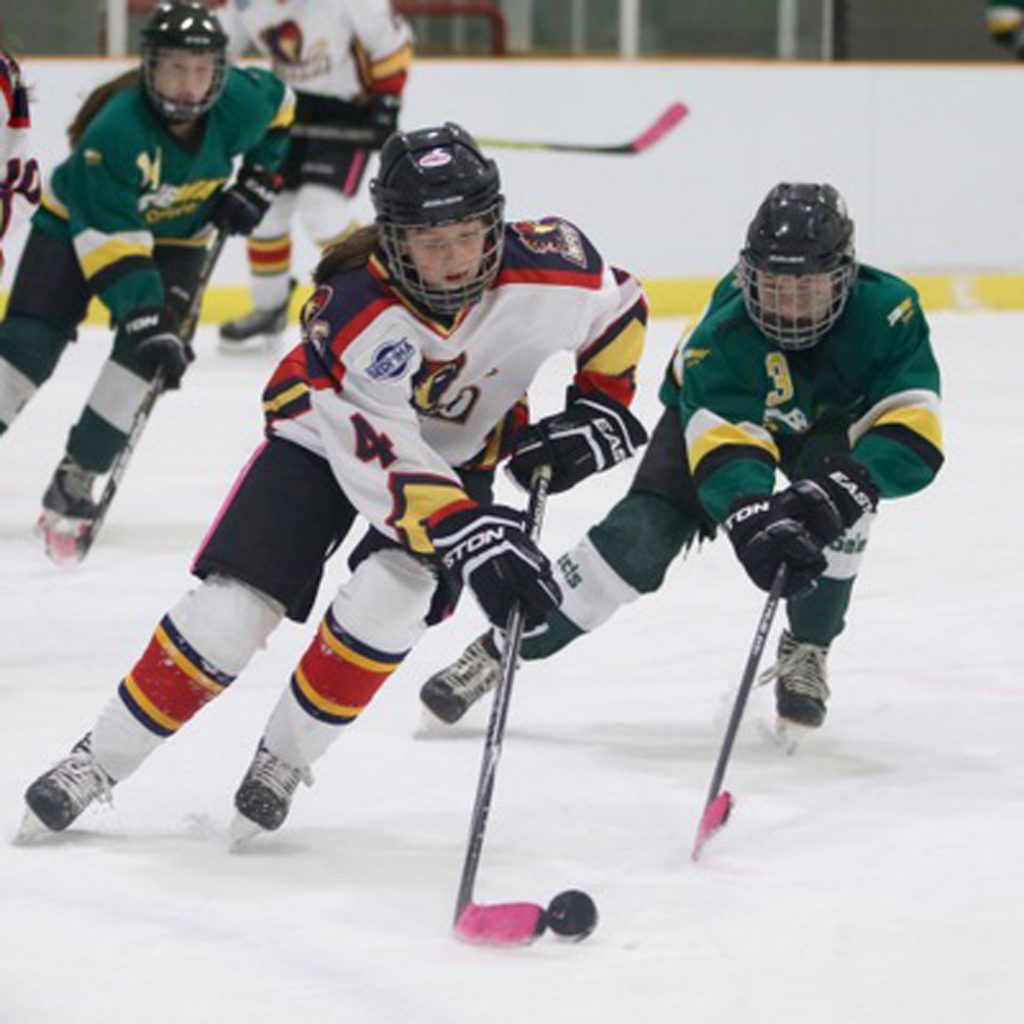 Abby MacDonald (#4) of the Metro East Inferno and Natasha Hahn (#3) of Fundy Highland Subway Selects in the Bantam Female A division Gold Medal game. Metro East Inferno won the match 3-2.
By Allan Lynch
Nova Scotia's SEDMHA Honda Minor Hockey Tournament got big by focusing on small. Since its first eight-team tournament in 1978, SEDMHA (the Shearwater East Dartmouth Minor Hockey Association) has grown into a 600-game competition played by up to 250 teams on more than a dozen ice surfaces in the Halifax Regional Municipality.
SEDMHA chair Wayne MacDonald says, "People in the old days didn't know how to say no. The tournament started as a Bantam tournament but other teams in the association—Atom, Peewee and Midget—wanted to take part, so they added them. More teams applied and they just kept finding ice" in Halifax, Dartmouth, Bedford, Sackville, Cole Harbour and Tantallon, Nova Scotia.
SEDMHA began with teams from small communities around the Maritime provinces, then expanded to welcome teams from Newfoundland, Quebec, Ontario, some U.S. destinations as well as Russia, Serbia and Croatia. MacDonald says teams come "if we can get a connection. For the Serbia team, we had a fellow from Sackville who was serving in the embassy there and also coaching. He brought a team over."
MacDonald explains that one of the tournament's prime challenges is how to publicize outside of the Maritime hockey community." To accomplish that, SEDMHA organizers rely on word of mouth, asking teams travelling to other tournaments to talk it up when they're on the road.
SEDMHA organizers typically book a 1,200-room block with hotels in the Halifax region for their annual tournament, however, participation for the 2019 event had to be limited to 220 teams because of competition for hotel rooms with other events held at the same time.
With a $500,000 budget—thanks to the ongoing sponsorship of Honda, Scotiabank, Ultramar and a few others—SEDMHA has become so big it has spurred three additional competitions: the SEDMHA Novice Hockey Jamboree held the weekend prior to the Minor tournament; the SEDMHA Female Hockey Tournament in November; and a new Peewee AAA Hockey Tournament which took place last December.
While some volunteer-run organizations struggle with stagnation and declining pools of volunteers, SEDMHA thrives by utilizing a type of parental farm-league. Hockey parents, and grandparents who have become empty nesters, were so used to coming to the rink that they stayed to work on the SEDMHA cluster of tournaments. There is a core group of about eight people who've been involved in the tournament for decades, but in recent years organizers have attracted a younger demographic of volunteers who are involved with minor hockey on a day-to-day basis.
---
SEDMHA Honda Minor Hockey Tournament
March 28–31, 2019
220 teams