George Brown College Announces 2018

5 to Watch

Award Winners
TORONTO, ON – May 15th, 2018 – George Brown College is pleased to announce the recipients of this year's 5 to Watch: Canada's Sports Business Awards. The awards are voted on by a panel of senior sports business executives and celebrate five dynamic young professionals who have achieved remarkable career success prior to their 40th birthday. This year's winners are: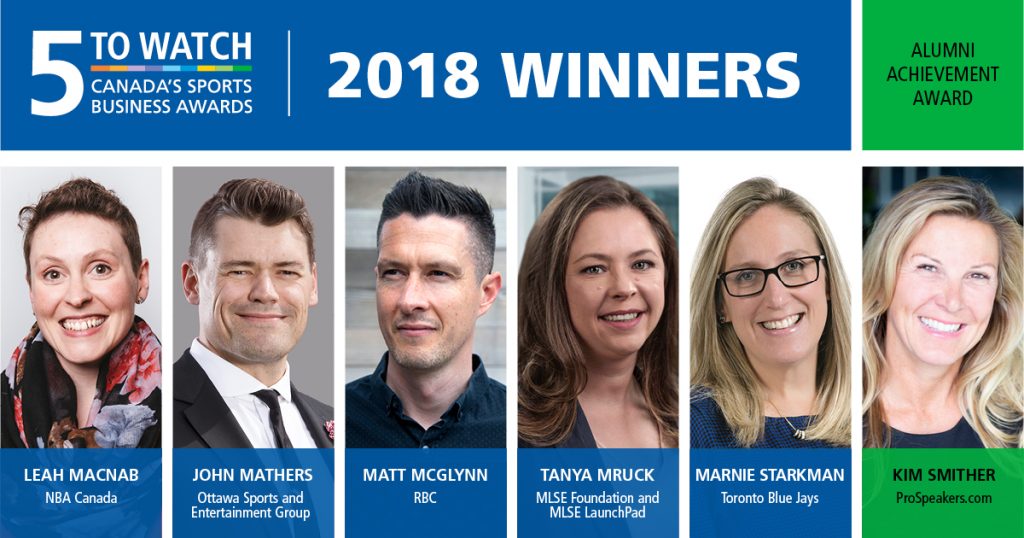 The winners will be honoured at an awards ceremony on Thursday, June 21st. Over 400 sports business professionals and enthusiasts will be in attendance to salute the winners and network with colleagues. The event is celebrating its seventh year and has raised over $250k for student bursaries.
Alumni Achievement Award
The Alumni Achievement Award is presented annually to a graduate of the Sport & Event Marketing Program at George Brown College. It recognizes an outstanding industry professional who has also given back to their community through coaching, mentoring or volunteering. This year's recipient is Kim Smither.
The 5 to Watch: Canada's Sports Business Awards will be held on June 21st, 2018 at George Brown College's Waterfront Campus (51 Dockside Drive, Toronto). The doors will open 6:00 p.m. for a networking reception with the awards ceremony beginning at 7:30 p.m. An onsite after-party will follow the awards component. Tickets can be purchased at 5toWatch.ca.
For more information, please contact:
TANJA COUGHLAN | Marketing Manager
George Brown College | St. James Campus
(416) 415.5000 ext. 3779 | tcoughlan@georgebrown.ca